Paras Ratna
Project Executive | VIF
Vision India Foundation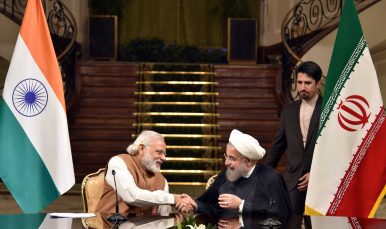 The Iranian nuclear deal fiasco has made the whole world anxious. U.S. President Donald Trump announced on May 8 that the United States will withdraw from the deal and planned to reinstate sanctions against the Iranian government. The sanctions were reimposed this week, making good on Trump's threat.
The scrapping of the nuclear deal is bound to have widespread repercussions for the regional security architecture in particular and global polity in general. Given New Delhi's engagement not only with the United States and Iran but also with other significant Middle East countries like the UAE, Saudi Arabia, and Israel, the diplomatic headache resulting from these sanctions has multiplied for India.
Between a Rock and a Hard Place
India is increasingly finding itself between a rock and a hard place following the Trump administration's unilateral withdrawal from the nuclear deal. U.S. Ambassador to the UN Nikki Haley's advice for India "to rethink their relationship with Iran" shows Washington's attempt to manipulate India. For New Delhi, though, changing the relationship with Tehran is easier said than done.
India and Iran share historical ties, though this dimension of the India-Iran relationship is often ignored. The two shared common borders until the partition of the subcontinent in 1947. Persian influence on Mughal architecture is pervasive. Formal diplomatic ties between India and Iran were established in 1950. Presently, Iran is India's third largest supplier of crude oil. However, the India-Iran relationship transcends oil. India, with an investment of $500 million, aims to develop Iran's Chabahar port as a transit hub for Afghanistan, Central Asia, and the International North-South Transport Corridor (INSTC). Additionally, India is developing two gas fields, namely Farzad-B gas field located in Tehran and the South Pars field located between Iran and Qatar. These projects clearly highlight India's long-term engagement with Iran.